In 1931 Johnstone's Garage was founded when Hardy Johnstone purchased the premises from Hartley Parkinson. Initially the business grew by the sale of the famous Grey Ferguson tractors to local farmers.
The association with the Ford Motor Company began as a retail dealer over 60 years ago, from where the family business has continued to develop through personal customer care. A lot has changed over the decades, with today's cars delivering a driving experience that could barely be imagined back in the sixties, but our commitment to satisfying customers' needs is as strong as it was back then.
With two generations of the family supported by loyal members of staff that help us to deliver a personal service steeped in tradition. The business continues to expand to meet the demands of the 21st century supplying vehicles to Cumbria, North Yorkshire , Co Durham and Lancashire.
New Ford Vehicles, Used Cars Sales, Servicing & repairs and Fuel, Kirkby Stephen Cumbria. Supplying locally, Cumbria, County Durham, Borders and North Yorkshire & nationally. Johnstone's Garage - Personal Service from a Family Business.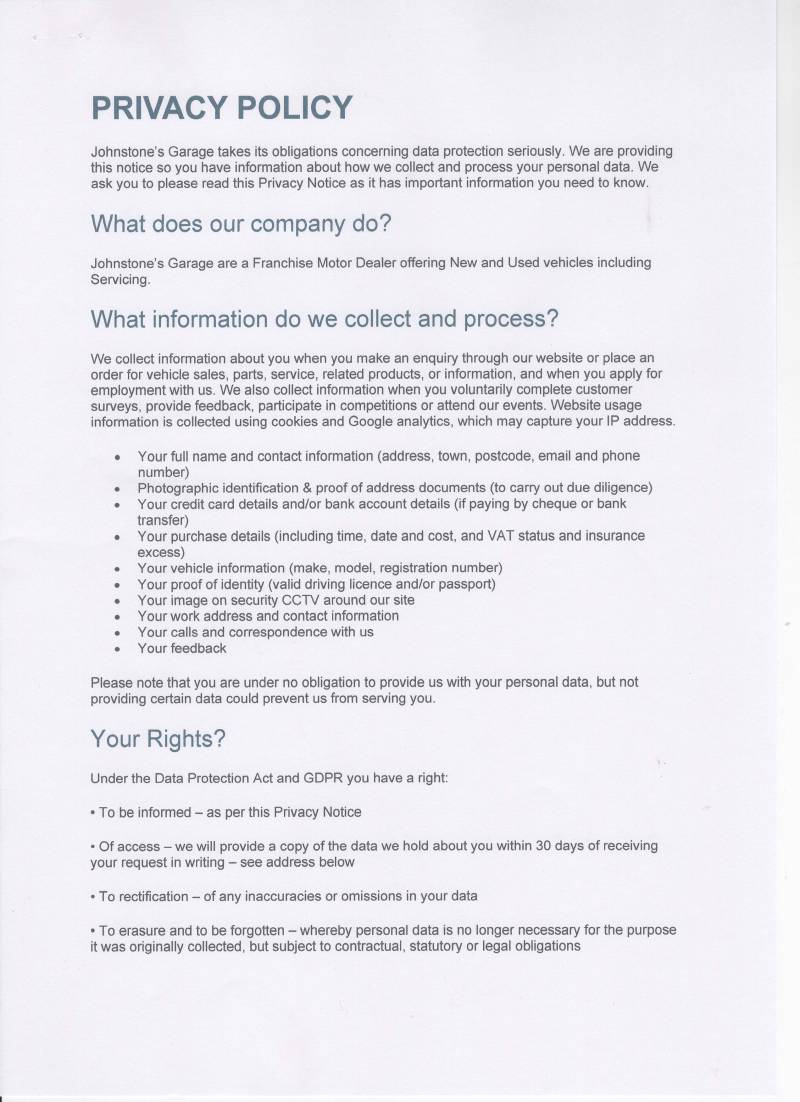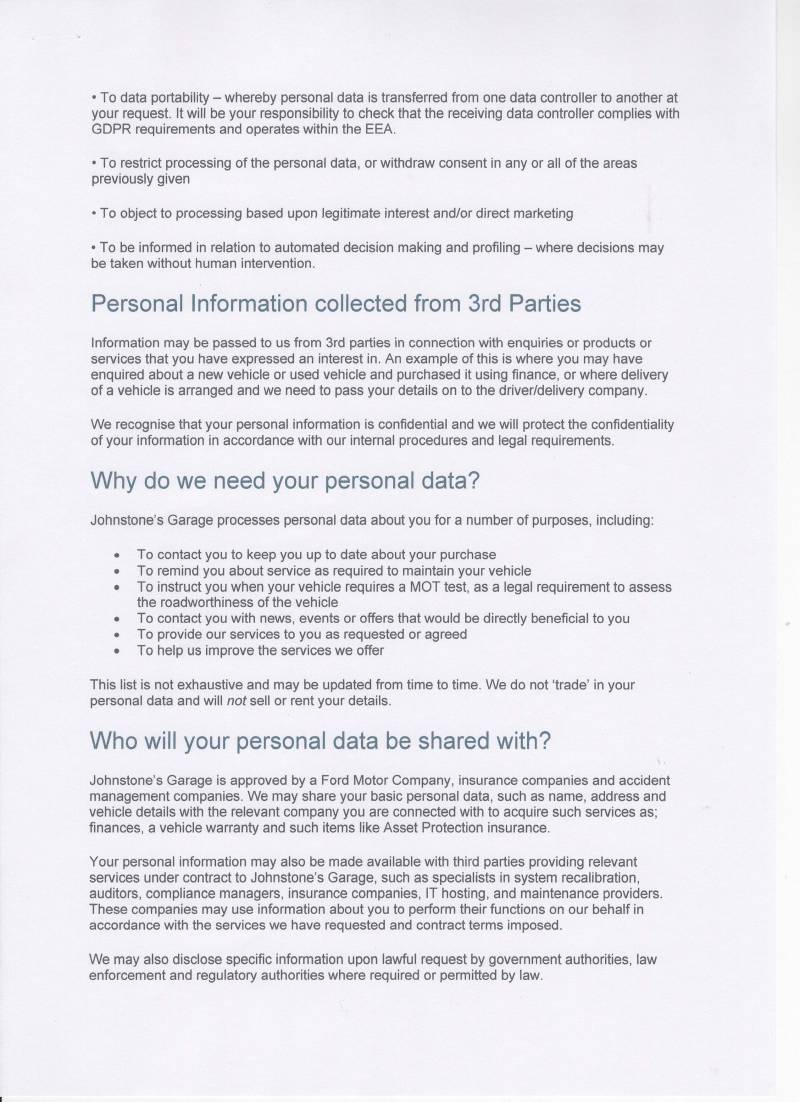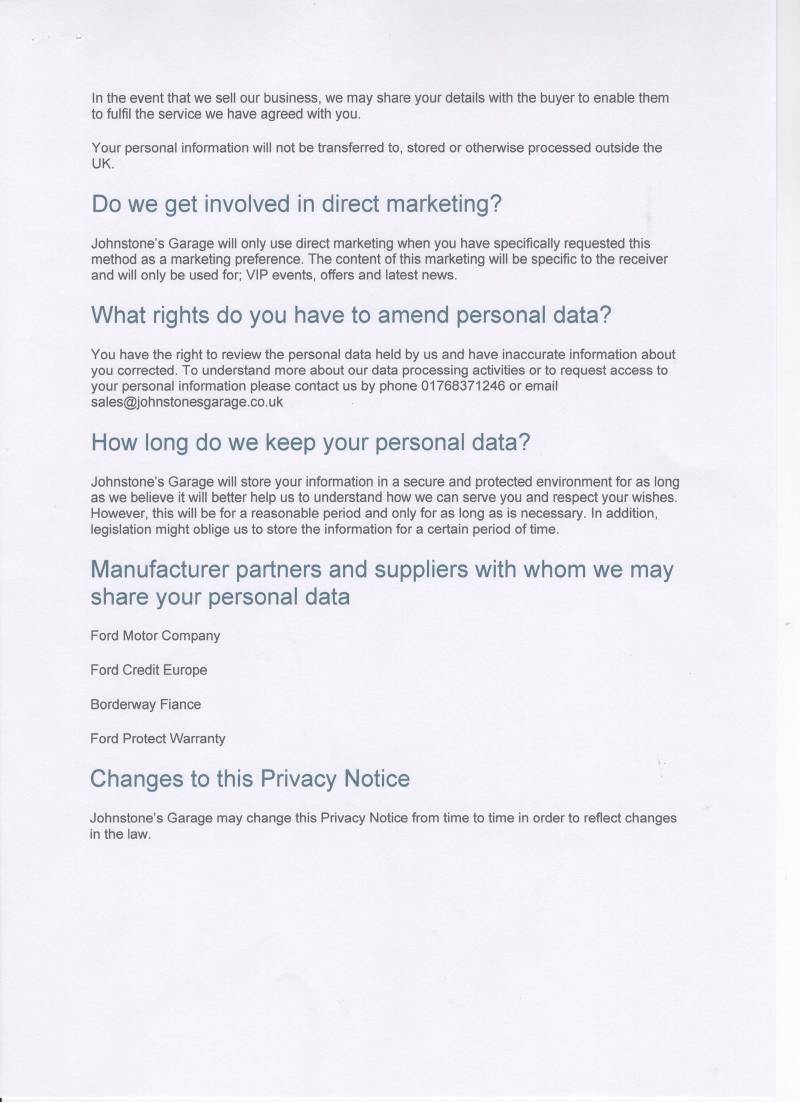 PRIVACY POLICY
Johnstone's Garage takes its obligations concerning data protection seriously. We are providing this notice so you have information about how we collect and process your personal data. We ask you to please read this Privacy Notice as it has important information you need to know.
What does our company do?
Johnstone's Garage are a Franchise Motor Dealer offering New and Used vehicles including Servicing.
What information do we collect and process?
We collect information about you when you make an enquiry through our website or place an order for vehicle sales, parts, service, related products, or information, and when you apply for employment with us. We also collect information when you voluntarily complete customer surveys, provide feedback, participate in competitions or attend our events. Website usage information is collected using cookies and Google analytics, which may capture your IP address.
Your full name and contact information (address, town, postcode, email and phone number)

Photographic identification & proof of address documents (to carry out due diligence)

Your credit card details and/or bank account details (if paying by cheque or bank transfer)

Your purchase details (including time, date and cost, and VAT status and insurance excess)

Your vehicle information (make, model, registration number)

Your proof of identity (valid driving licence and/or passport)

Your image on security CCTV around our site

Your work address and contact information

Your calls and correspondence with us

Your feedback
Please note that you are under no obligation to provide us with your personal data, but not providing certain data could prevent us from serving you.
Your Rights?
Under the Data Protection Act and GDPR you have a right:
• To be informed – as per this Privacy Notice
• Of access – we will provide a copy of the data we hold about you within 30 days of receiving your request in writing – see address below
• To rectification – of any inaccuracies or omissions in your data
• To erasure and to be forgotten – whereby personal data is no longer necessary for the purpose it was originally collected, but subject to contractual, statutory or legal obligations
• To data portability – whereby personal data is transferred from one data controller to another at your request. It will be your responsibility to check that the receiving data controller complies with GDPR requirements and operates within the EEA.
• To restrict processing of the personal data, or withdraw consent in any or all of the areas previously given
• To object to processing based upon legitimate interest and/or direct marketing
• To be informed in relation to automated decision making and profiling – where decisions may be taken without human intervention.
Personal Information collected from 3rd Parties
Information may be passed to us from 3rd parties in connection with enquiries or products or services that you have expressed an interest in. An example of this is where you may have enquired about a new vehicle or used vehicle and purchased it using finance, or where delivery of a vehicle is arranged and we need to pass your details on to the driver/delivery company.
We recognise that your personal information is confidential and we will protect the confidentiality of your information in accordance with our internal procedures and legal requirements.
Why do we need your personal data?
Johnstone's Garage processes personal data about you for a number of purposes, including:
To contact you to keep you up to date about your purchase

To remind you about service as required to maintain your vehicle

To instruct you when your vehicle requires a MOT test, as a legal requirement to assess the roadworthiness of the vehicle

To contact you with news, events or offers that would be directly beneficial to you

To provide our services to you as requested or agreed

To help us improve the services we offer
This list is not exhaustive and may be updated from time to time. We do not 'trade' in your personal data and will not sell or rent your details.
Who will your personal data be shared with?
Johnstone's Garage is approved by a Ford Motor Company, insurance companies and accident management companies. We may share your basic personal data, such as name, address and vehicle details with the relevant company you are connected with to acquire such services as; finances, a vehicle warranty and such items like Asset Protection insurance.
Your personal information may also be made available with third parties providing relevant services under contract to Johnstone's Garage, such as specialists in system recalibration, auditors, compliance managers, insurance companies, IT hosting, and maintenance providers. These companies may use information about you to perform their functions on our behalf in accordance with the services we have requested and contract terms imposed.
We may also disclose specific information upon lawful request by government authorities, law enforcement and regulatory authorities where required or permitted by law.
In the event that we sell our business, we may share your details with the buyer to enable them to fulfil the service we have agreed with you.
Your personal information will not be transferred to, stored or otherwise processed outside the UK.
Do we get involved in direct marketing?
Johnstone's Garage will only use direct marketing when you have specifically requested this method as a marketing preference. The content of this marketing will be specific to the receiver and will only be used for; VIP events, offers and latest news.
What rights do you have to amend personal data?
You have the right to review the personal data held by us and have inaccurate information about you corrected. To understand more about our data processing activities or to request access to your personal information please contact us by phone 01768371246 or email sales@johnstonesgarage.co.uk
How long do we keep your personal data?
Johnstone's Garage will store your information in a secure and protected environment for as long as we believe it will better help us to understand how we can serve you and respect your wishes. However, this will be for a reasonable period and only for as long as is necessary. In addition, legislation might oblige us to store the information for a certain period of time.
Manufacturer partners and suppliers with whom we may share your personal data
Ford Motor Company
Ford Credit Europe
Borderway Fiance
Ford Protect Warranty
Changes to this Privacy Notice
Johnstone's Garage may change this Privacy Notice from time to time in order to reflect changes in the law.